As seen while traveling in the "Wayback Machine."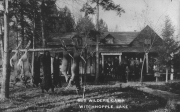 The sign says Rap-Shaw Fishing Club, but that is definitely not a stringer of fish hanging on the pole.
Do you have club photos to share? Do you have a website with club-related content you'd like us to link-to?
Submit Comments to the webmaster.